Looking for the top cloud backup companies? Look no further!
We've compiled a list of the top 25 industry leaders in cloud backup solutions.
These companies specialize in providing secure, reliable, and scalable cloud backup services to protect your critical data.With their advanced technologies and robust infrastructure, they offer seamless data protection, automated backups, and easy data recovery options.
These cloud backup solutions can assist you in protecting your data from potential dangers like hardware failures, natural disasters, or cyberattacks whether you run a small business or a huge corporation.
By leveraging their expertise, you can eliminate the risks associated with traditional backup methods and ensure business continuity. Don't compromise your data's safety – explore the offerings of these top cloud backup companies and enjoy peace of mind knowing your valuable information is securely backed up in the cloud.
1. Acronis
Company Name: Acronis
Founders: Serguei Beloussov
Founded Year: 2003
Headquarters: Schaffhausen, Switzerland
Product Categories: Cloud backup, disaster recovery, and data protection
Description: Acronis provides comprehensive cloud backup and data protection solutions for businesses and individuals, ensuring secure storage and easy recovery of critical data.
Key Features:

Incremental backups and deduplication
Hybrid cloud backup options
AI-powered ransomware protection
Easy-to-use backup management interface
Flexible recovery options
2. Carbonite
Company Name: Carbonite
Founders: David Friend, Jeff Flowers, and Ming Tsai
Founded Year: 2005
Headquarters: Boston, Massachusetts, USA
Product Categories: Cloud backup and data protection
Description: Carbonite offers cloud-based backup and recovery solutions designed to protect critical data, prevent data loss, and ensure business continuity.
Key Features:

Automated and continuous backups
File versioning and point-in-time recovery
Remote access and file sharing
Server and database backup options
Advanced encryption and security measures
3. Backblaze
Company Name: Backblaze
Founders: Gleb Budman and Brian Wilson
Founded Year: 2007
Headquarters: San Mateo, California, USA
Product Categories: Cloud backup and storage
Description: Backblaze provides unlimited cloud backup and storage solutions for individuals and businesses, offering reliable data protection and easy access to backed-up files.
Key Features:

Unlimited storage space
Continuous backup and automatic file syncing
Web-based file access and sharing
Data redundancy and durability
Two-factor authentication and encryption
4. IDrive
Company Name: IDrive
Founders: Raghu Kulkarni
Founded Year: 1995
Headquarters: Calabasas, California, USA
Product Categories: Cloud backup and sync
Description: IDrive provides secure cloud backup and sync solutions for individuals and businesses, ensuring data protection and easy accessibility across devices.
Key Features:

Cross-platform compatibility
Incremental and scheduled backups
Versioning and point-in-time recovery
Hybrid backup options
Remote data management and restore
5. Mozy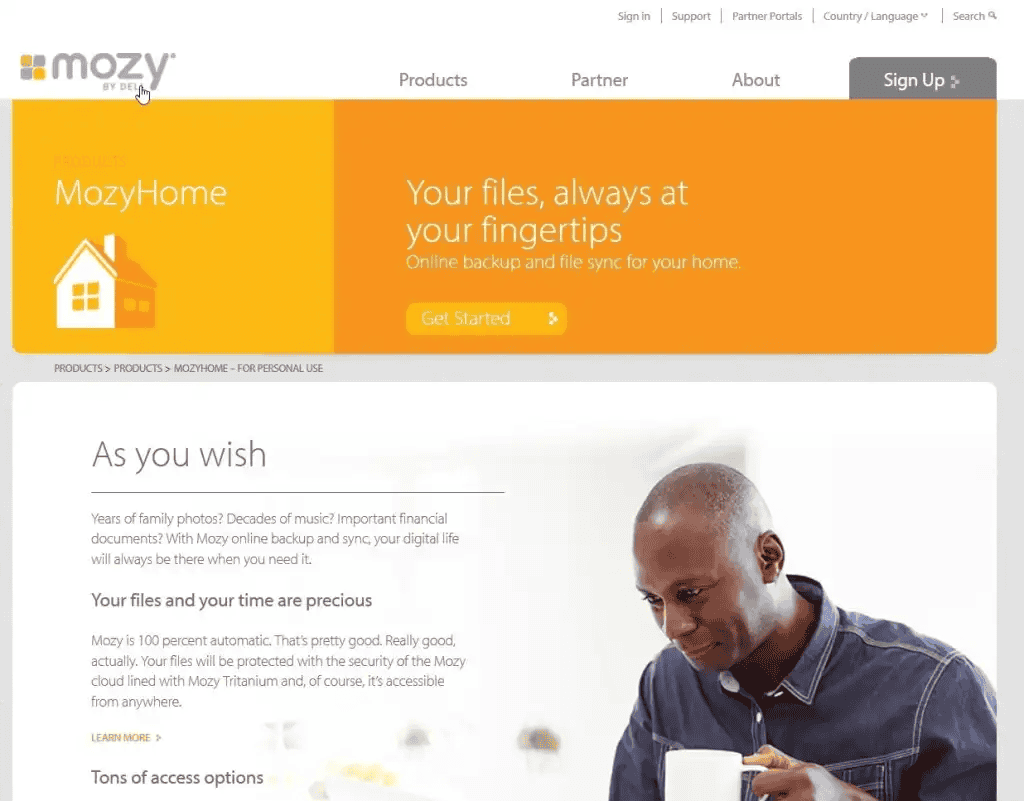 Company Name: Mozy
Founders: Josh Coates
Founded Year: 2005
Headquarters: Seattle, Washington, USA
Product Categories: Cloud backup and data protection
Description: Mozy offers cloud backup and data protection solutions for businesses, providing secure offsite storage and easy recovery of critical data.
Key Features:

Automated and continuous backups
File versioning and point-in-time recovery
Desktop and server backup options
Military-grade encryption
Centralized management console
6. SpiderOak
Company Name: SpiderOak
Founders: Ethan Oberman
Founded Year: 2007
Headquarters: Kansas City, Missouri, USA
Product Categories: Secure cloud backup and collaboration
Description: SpiderOak offers end-to-end encrypted cloud backup and collaboration solutions, prioritizing data privacy and security for individuals and businesses.
Key Features:

Zero-knowledge encryption
Cross-platform compatibility
Secure file sharing and collaboration
Continuous and selective backups
Data versioning and retention policies
7. CrashPlan
Company Name: CrashPlan (part of Code42)
Founders: Matthew Dornquast, Brian Bispala, and Mitch Coopet
Founded Year: 2001
Headquarters: Minneapolis, Minnesota, USA
Product Categories: Cloud backup and data protection
Description: CrashPlan provides cloud backup and data protection solutions for businesses, offering secure storage, continuous backups, and rapid recovery options.
Key Features:

Automated and continuous backups
Flexible backup settings and retention policies
Centralized management console
Endpoint data protection
Multiple device compatibility
8. Barracuda
Company Name: Barracuda Networks (Barracuda Backup)
Founders: Zach Levow, Dean Drako, and Michael Perone
Founded Year: 2003
Headquarters: Campbell, California, USA
Product Categories: Cloud-to-cloud backup and data protection
Description: Barracuda Backup offers cloud-to-cloud backup and data protection solutions for businesses, ensuring comprehensive backup and recovery for critical data stored in various cloud applications.
Key Features:

Cloud-to-cloud backup for SaaS applications
Granular data recovery options
Advanced threat detection and remediation
Compliance and data retention features
Scalable and centralized management
9.Barracuda
Company Name: Veeam Software
Founders: Ratmir Timashev and Andrei Baronov
Founded Year: 2006
Headquarters: Baar, Switzerland
Product Categories: Cloud backup and data protection
Description: Veeam Backup & Replication is a comprehensive backup and data protection solution for virtual, physical, and cloud environments, providing reliable backup, recovery, and replication capabilities.
Key Features:

Agentless backup for virtual environments
Instant VM recovery and granular file-level recovery
Cloud backup and replication options
Backup encryption and secure data transfer
Backup verification and testing
10. Datto
Company Name: Datto
Founders: Austin McChord
Founded Year: 2007
Headquarters: Norwalk, Connecticut, USA
Product Categories: Cloud-to-cloud backup and data protection
Description: Datto Backupify provides cloud-to-cloud backup and data protection solutions for SaaS applications, ensuring comprehensive backup and recovery options for critical cloud data.
Key Features:

Automated and continuous backups
Granular data recovery options
Security and compliance features
Centralized management console
SaaS application coverage and compatibility
11. Zetta
Company Name: Zetta
Founders: Jeff Whitehead and Lou Montulli
Founded Year: 2008
Headquarters: Sunnyvale, California, USA
Product Categories: Cloud backup and disaster recovery
Description: Zetta offers cloud backup and disaster recovery solutions designed to protect critical data and ensure business continuity with its reliable and scalable platform.
Key Features:

Continuous data protection
Rapid data recovery and failover options
Data encryption and secure transmission
Centralized management console
Application-aware backup and recovery
12. MSP360
Company Name: MSP360
Founders: Alexey Serkov
Founded Year: 2011
Headquarters: Alexandria, Virginia, USA
Product Categories: Cloud backup and data protection
Description: Cloudberry Backup provides cloud-based backup and data protection solutions for businesses, offering flexible storage options and strong encryption for secure data storage.
Key Features:

Multiple cloud storage options
Image-based backup and bare-metal recovery
Compression and deduplication
Hybrid backup options
Endpoint and server protection
13. Cyber Fortress
Company Name: Cyber Fortress
Founders: Dave Wright and Bret Piatt
Founded Year: 2006
Headquarters: San Antonio, Texas, USA
Product Categories: Cloud backup and storage
Description: Jungle Disk offers secure cloud backup and storage solutions for businesses, ensuring data protection, easy access, and collaboration with its reliable platform.
Key Features:

Encrypted backups and data transfers
Data versioning and point-in-time recovery
Server and workstation backup options
Secure file sharing and collaboration
Centralized management console
14. Bacula
Company Name: Bacula Systems
Founders: Kern Sibbald
Founded Year: 2008
Headquarters: Yverdon-les-Bains, Switzerland
Product Categories: Enterprise backup and recovery
Description: Bacula Systems offers enterprise-grade backup and recovery solutions, providing comprehensive data protection, automation, and scalability for businesses of all sizes.
Key Features:

Cross-platform compatibility
Incremental and differential backups
Centralized management and reporting
Advanced deduplication and compression
Tape backup and long-term archiving
15. Unitrends
Company Name: Unitrends
Founders: Dr. Mark Campbell
Founded Year: 1989
Headquarters: Burlington, Massachusetts, USA
Product Categories: Cloud backup and disaster recovery
Description: Unitrends offers cloud backup and disaster recovery solutions designed to protect critical data and ensure business continuity with its all-in-one, scalable platform.
Key Features:

Automated backup and recovery
Rapid recovery options with instant spin-up
Cloud replication and offsite storage
Ransomware detection and recovery
Centralized management and monitoring
16. BackupAssist
Company Name: BackupAssist
Founders: Linus Chang
Founded Year: 2001
Headquarters: Melbourne, Australia
Product Categories: Windows server backup and recovery
Description: BackupAssist provides reliable Windows server backup and recovery solutions for businesses, offering flexible and cost-effective options to protect critical data.
Key Features:

Image-based backups and bare-metal recovery
Granular recovery options
Virtual machine backup and recovery
Backup encryption and compression
Exchange and SQL database protection
17. Druva
Company Name: Druva
Founders: Jaspreet Singh
Founded Year: 2008
Headquarters: Sunnyvale, California, USA
Product Categories: Cloud backup and data protection
Description: Druva offers cloud-native backup and data protection solutions for endpoints, cloud applications, and data centers, providing scalable and secure backup options.
Key Features:

Global deduplication and compression
Endpoint backup and recovery
SaaS application backup (e.g., Office 365, Salesforce)
Machine learning-based anomaly detection
Compliance and eDiscovery features
18. Clumio
Company Name: Clumio
Founders: Poojan Kumar, Woon Ho Jung, and Kaustubh Patil
Founded Year: 2017
Headquarters: Santa Clara, California, USA
Product Categories: Cloud backup as a service
Description: Clumio provides a cloud-native backup as a service platform, enabling organizations to protect their data in the cloud without the need for additional infrastructure.
Key Features:

Unlimited scalability and retention
Continuous data protection
AWS-native protection for EC2 and EBS
On-demand and granular data recovery
Compliance and security certifications
19. Altaro
Company Name: Altaro
Founders: David Vella and Simon Attard
Founded Year: 2009
Headquarters: San Gwann, Malta
Product Categories: Virtual machine backup and recovery
Description: Altaro VM Backup offers backup and recovery solutions specifically designed for virtual machines, ensuring efficient protection and easy restoration of VM data.
Key Features:

Agentless backup for virtual machines
Granular item-level recovery
Offsite backup and replication
WAN-optimized backups
Centralized management and monitoring
20. CloudAlly
Company Name: CloudAlly
Founders: Avinoam Katz and Rami Sasson
Founded Year: 2011
Headquarters: Herzliya, Israel
Product Categories: Cloud-to-cloud backup and recovery
Description: CloudAlly provides cloud-to-cloud backup and recovery solutions for popular SaaS applications, offering secure data protection and quick restoration options.
Key Features:

Automated daily backups
Granular item-level recovery
Cross-platform compatibility
GDPR compliance features
Centralized management and monitoring
21. Rubrik
Company Name: Rubrik
Founders: Bipul Sinha, Arvind Jain, Arvind Nithrakashyap, and Soham Mazumdar
Founded Year: 2014
Headquarters: Palo Alto, California, USA
Product Categories: Cloud data management and backup
Description: Rubrik offers a cloud data management platform that combines backup, recovery, and data orchestration into a single solution, simplifying data protection and management.
Key Features:

Policy-driven automation
Instant recovery and live mount
Cloud-native backup and archival
Data governance and compliance
API-driven extensibility and integration
22. Ahsay
Company Name: Ahsay Systems Corporation
Founders: Schubert Chong and Daniel Chan
Founded Year: 1999
Headquarters: Hong Kong
Product Categories: Cloud backup and data protection
Description: Ahsay offers comprehensive cloud backup and data protection solutions for managed service providers, enabling them to deliver reliable backup services to their clients.
Key Features:

Multi-platform backup and recovery
Centralized management and monitoring
White-label and customizable options
Granular restore and recovery options
Hybrid cloud and on-premises deployment
23. Infrascale
Company Name: Infrascale
Founders: Ken Shaw Jr.
Founded Year: 2006
Headquarters: El Segundo, California, USA
Product Categories: Cloud backup and disaster recovery
Description: Infrascale provides cloud backup and disaster recovery solutions designed to protect critical data and ensure business continuity in the face of any IT disaster.
Key Features:

Bare-metal and virtual machine backups
Rapid recovery with instant failover
Data deduplication and compression
Continuous data protection (CDP)
Multi-site replication and failover
24. CloudEndure
Company Name: CloudEndure (an AWS Company)
Founders: Ofer Gadish and Leonid Feinberg
Founded Year: 2012
Headquarters: Tel Aviv, Israel
Product Categories: Cloud migration and disaster recovery
Description: CloudEndure, now part of Amazon Web Services (AWS), offers cloud migration and disaster recovery solutions, allowing businesses to replicate and recover their applications and data in the cloud.
Key Features:

Continuous data replication and synchronization
Automated machine conversion and orchestration
Near-zero downtime migration and recovery
Application-consistent recovery points
Support for various infrastructure platforms
25. Asigra
Company Name: Asigra
Founders: David Farajun
Founded Year: 1986
Headquarters: Toronto, Canada
Product Categories: Cloud backup and recovery
Description: Asigra offers enterprise-class cloud backup and recovery software, enabling businesses to protect their data across physical, virtual, and cloud environments.
Key Features:

Agentless and agent-based backup options
Global deduplication and compression
Autonomic healing and validation restore
Data encryption and secure transmission
Compliance with industry regulations